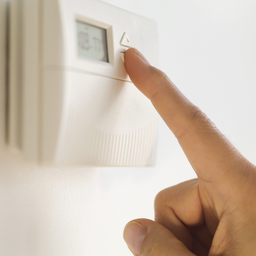 The hot summer months are behind us along with the two-cents-per kilowatt-hour surcharge from our wholesale power provider for the summer months. However, there is still an uncertainty as to what power costs will be in the future. With that in mind, I'd like to share a few simple ways you can make your home more comfortable this winter, which can ultimately help you save on energy bills.
At the onset of the cold weather season, replace the HVAC filter for better air quality and to help the unit operate more efficiently. You can also keep your home cozier by caulking and weatherstripping windows and doors. If your home is particularly chilly, you can tape or affix heavy, clear plastic to the inside of your window frames to create an additional barrier against the cold. Ensure that the plastic is tightly sealed to the frame to help reduce infiltration.
Set your thermostat at 68 degrees, a perfect temperature for most people. If it feels a little chilly, add a sweater or other layer of clothing. If you feel drafts around windows or exterior doors, tightly roll up a towel and place it near the bottom of the door or window to eliminate the draft.
During the day, open your blinds and curtains to allow sunlight to warm your home. Close window coverings at night for an added layer of insulation.
At Blue Ridge Electric Cooperative, we want to help you save energy and money. Visit our web site, blueridge.coop, for additional energy-saving tips. We can't control the weather, but we can provide advice to help you save energy and keep your family more comfortable during the winter season.
Save money by keeping your thermostat set on 68 degrees. If you would like to install a smart thermostat, just visit the energy services tab on our website and learn about the benefits to you and your co-op.