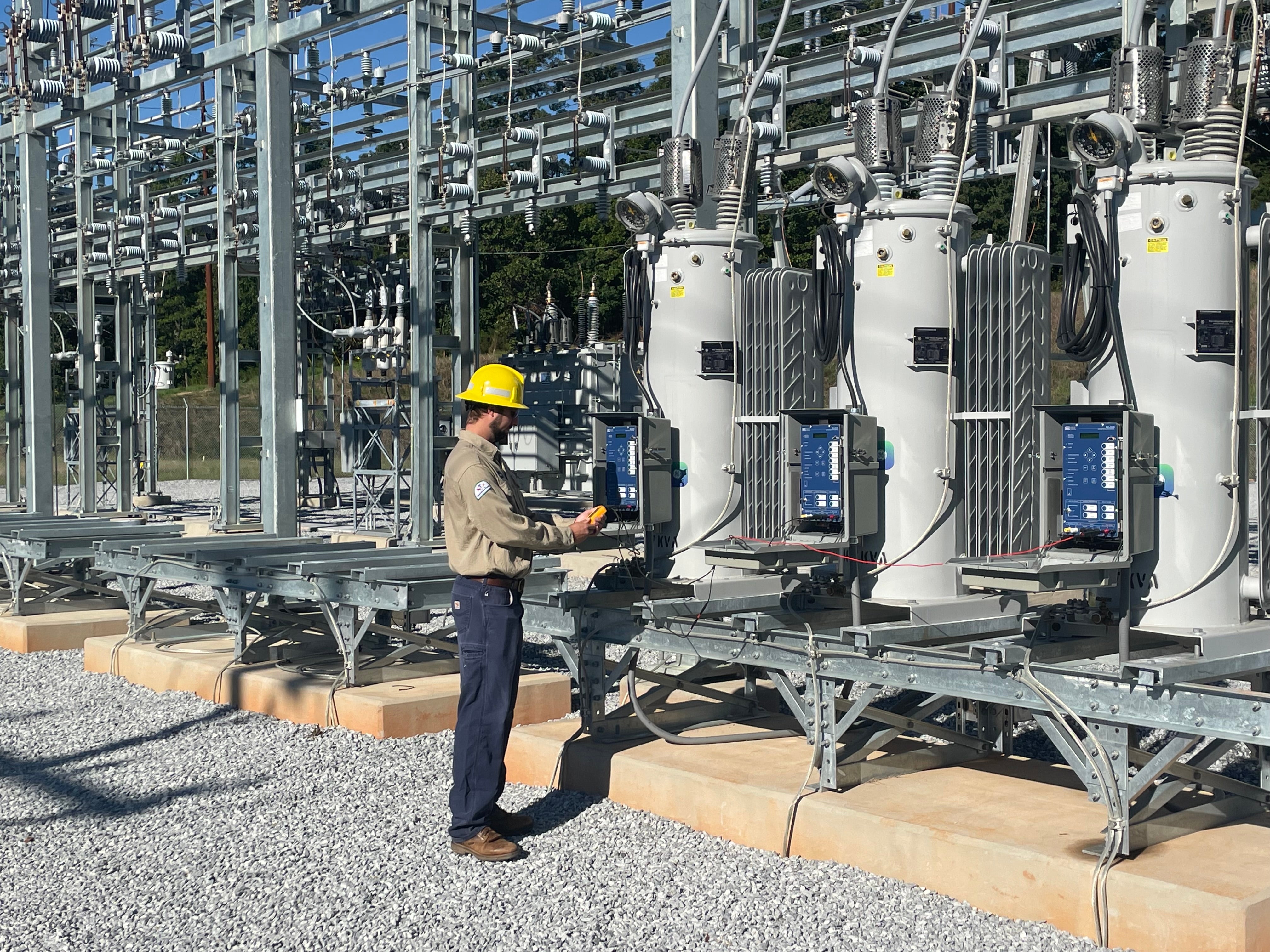 By the time your October edition of South Carolina Living arrives, we expect to be adding electrical load to Blue Ridge Electric Cooperative's new Dr. Johns substation.  Located next to U.S. Highway 123 in Oconee County, the facility is situated about halfway between the City of Westminster and the Georgia-South Carolina state line. 
A great deal of both planning and construction has gone into this project.  Dr. Johns has been outfitted with a 15-MVA transformer, and three new backbone feeder lines now emanate from its impressive structure.  These three-phase circuits will supply power to about 2,100 Blue Ridge members.  Having formerly been served by either our Westminster substation or our Holly Springs metering point, these members are now positioned closer to their source of central-station power.  That nearer proximity should afford those members even more-dependable service than they were enjoying previously.  The station's design also features bays that would accommodate three additional backbone feeders, as the area's future electrical-load growth might eventually warrant.
First leg
To supply the needed energy for the Dr. Johns station, the co-op's wholesale-power supplier, Central Electric Power Cooperative, has erected a seven-mile-long transmission line.  This 100-kV electricity carrier actually represents just the first leg of an even bigger undertaking.  Preliminary work is already under way on an additional 9.4-mile-long transmission line that will ultimately tap onto this newly completed Dr. Johns transmission spur.  The new extension will then feed into southern Oconee's Port Bass community. 
Next, a three-mile stretch of existing transmission line will then be upgraded to 100-kV capacity.  That work action will enable Blue Ridge to establish a transmission loop feed that would serve the majority of our members residing in Oconee County and some of our Anderson County members as well.
Target date
The target date for finishing these system improvements is December of 2024.  Once all the new infrastructure is in place, Blue Ridge will possess enormous back-feeding capabilities on this portion of our transmission grid.  That would point to an even better level of service reliability for our members located within that large geographic expanse of the cooperative's assigned territory.
While the big spotlight is definitely on this particular example of progress, there are other enhancements to our Blue Ridge power-delivery system that are also moving forward simultaneously.  Our employee team's commitment is to deliver quality service and to keep getting better at what we do.  This latest major advancement should provide ample proof that the cooperative is remaining true to that commitment.
Jim Lovinggood
President CEO